Visit Us
The Tug Hill Estate
Home to Tug Hill Vineyards, Spirits, and Events.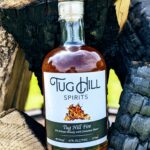 Introducing you to Tug Hill Fire! A cinnamon flavored brandy that has joined the ranks as a bold, new member of the Tug Hill Spirits line.  It is available now in the Vintner's Lounge & Retail Shop for tasting, buying and enjoying. Stop in to try it today!
Visit Us
Vintner's Lounge
The Vintner's Lounge is regularly open to the public, we invite you to enjoy leisurely wine and spirits tastings and lite food offerings. The Vintner's Lounge is located in our main hall's ground floor and is accessed through an entrance at the garden level. Tug Hill Vineyard's Wine, Spirits, and merchandise are available in-store; curbside pickup is available.
VINTNER'S LOUNGE  & RETAIL SHOP HOURS
Sunday to Wednesday 10-6, Thursday-Saturday 10-8
VINTNER'S LUNCH
Vintner's Lunch is being served daily from 11 am until 2 pm. Our light lunch menu changes daily.
The Tug Hill Estate is a dynamic business, home to a farm winery, distillery, and event center; it has much to offer. In addition to being a private event venue; we also offer several unique 'pop-up' style dining and music events for visitors. Most frequent being our Sunday Brunch, 'Wine Down' After Hours music event, and Wine and Food Pairing Dinners. Visit our Public Events page to learn more about current event offerings.
Plan your perfect Vineyard Event
Private Events
The Tug Hill Estate is the perfect venue for your event, a breathtaking setting your guests are sure to enjoy. 
Our timber-framed hall with its cathedral ceiling and cozy stone fireplace boasts rustic elegance. The 40-acre estate, with its lush hill-side vineyard and beautifully landscaped gardens, overlooks the foothills of the Adirondack Mountains. 
We are happy to host Social events like weddings, reunions, anniversaries, and corporate events. Our events team is here to create a tailored experience and an unforgettable event.
Tug Hill Vineyards Blog & News
Through The Grapevine
Sign up for our Newsletter
Stay in Touch