Tug Hill Vineyards
Beautiful, Family-owned Vineyard and Winery
Opened in 2007, Tug Hill Vineyards is a family-owned vineyard nestled in the Tug Hill region of Upstate New York. Overlooking the Black River Valley and Adirondack Mountains, our winery overlooks our 40-acre vineyard, and makes us one of New York's most serene and picturesque wineries. At Tug Hill Vineyards, we focus our wine-making with the use of cold-hardy grapes developed to withstand our famous harsh winters. We produce handcrafted, artisanal wines from French-American hybrids such as Marquette, Frontenac, La Crescent, and more!
Come to enjoy the wine and stay to take in the views from our beautifully landscape patio or screened porch.
Celebrating 10 years of growing cold-hardy grapes in Lewis County!
Watch our Video to Experience a Little "Taste" of Our Vineyard and All We Have to Offer! As the Old Saying Goes…It Doesn't Do It Justice…But At Least it Can Wet Your Appetite!
Tasting & Gifts
Come and taste our wines whenever we're open! We offer wine tastings for $5 which allows you to pick 6 wines to taste from our list of over 20 wines, including sparkling wines and dessert wines. Buy 3 bottles of wine and your wine tasting is free! No reservations are necessary unless you're bringing a large group of people. Our tasting room includes a gift shop designed to offer you all your wine related needs
Group reservations are required for groups of 8 or more. Please call at least 48 hours in advance: 315-376-4336.
Our tasting room includes a gift shop designed to offer you all your wine related needs, and a picturesque view of the Black River Valley. Make the best of your trip by planning to spend some time with us. We have a selection of local cheeses, Croghan bologna (a local favorite!), and crackers available for a snack with your wine. Feel free to bring your own picnic, enjoy a glass of wine or beer available here at the winery and relax in our beautifully landscaped gardens located next to our vineyards.
Bring your family, grab a golf cart, and tour our 40-acre farm estate! Our self-guided map includes the history of Tug Hill Vineyards, a brief overview of the winemaking process, and introduces you to the cold-climate grapes, blueberries, raspberries, hops, and more we grow at Tug Hill Vineyards!
Self-Guided Tour – Free
Saturday Taste & Tour: 1-5 | $5.00 | Available June – October
Guests are free to tour at their leisure, whenever we are open. Golf carts are first come first serve.
Take a tour with one of our winery staff members of our new production facility, followed with a wine tasting of six wines. Learn about cold-climate grapes and an in-depth presentation on wine making.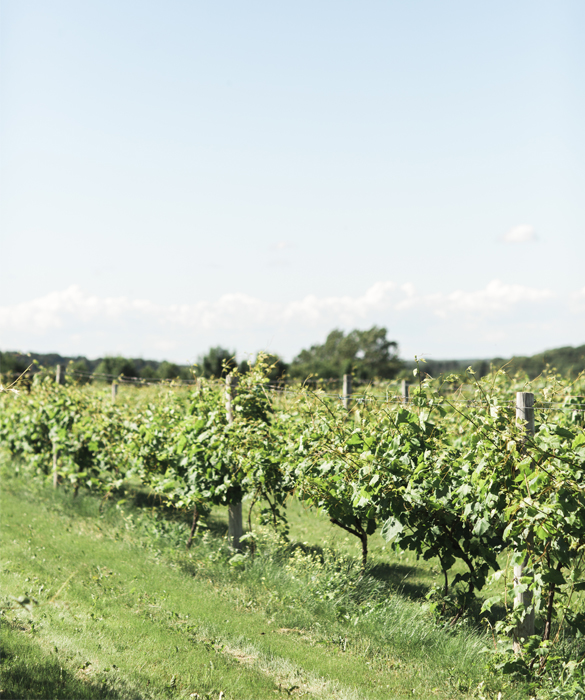 Sunday Brunch Buffet
Come enjoy a gourmet brunch on our screened in porch with a picturesque view of the vineyard and Black River Valley. In the cooler months, cozy up around our expansive stone fireplace in our beautiful hand-hewed timber framed building.
Available seating times are 10:00am, 11:30am, and 1:00pm.
Available April 1st – December 23th.
Tug Hill Vineyards
Upcoming Events
October 18 @ 5:00 pm
-
9:00 pm
Join us for Wine Down Thursday night with live music provided by the very popular duo Ferguson and Rogers! Enjoy a drink with friends on our beautiful patio and screened porch overlooking the Adirondack Foothills. Lite menu available for purchase: soup and salads, local meat and cheese boards, specialty sandwiches, dips, and desserts! Doors open at 5pm. Live Music 6pm-9pm. FREE admission. Rain or shine.
Find out more »
+ Export Events
Where To Find Us
Complete your trip to upstate New York with a visit to Tug Hill Vineyards. We are located just a short drive from the Thousand Islands and Fort Drum. Our facilities include a cozy tasting room and gift shop designed to offer you all your wine related needs with a picturesque view of our vineyards and the Black River Valley. We encourage you to make the best of your trip by planning to spend some time with us.
January – April: Thursday – Saturday: 10am-5pm and Sunday 10am-4pm
May – December: Monday – Saturday: 10am-6pm and Sunday 10am-4pm
Sunday Brunch Seating Times 10am, 11:30am, and 1pm
April – October: Live Music Thursday: 6pm-9pm
Closed: New Years Day, July 4th, Thanksgiving Day, and Christmas Day.
Enroll in our "Cellar Rat Club" and become an exclusive patron. Receive discounts, special discounts, and invitations to private events!
Gift Cards
The perfect way to "gift" for every special occasion, friends, relatives, co-workers and on and on. From amounts of $5 and up we can sell them over the phone or in our wine cellar.
To purchase, please call: (315) 376-4336