Today's U-Pick Conditions- 8/15/22
We still have blueberries- lots and lots of blueberries! The heat and the rain have done much to ripen the remaining blueberries, and the bushes are loaded again! If you haven't been to pick yet, you still have time.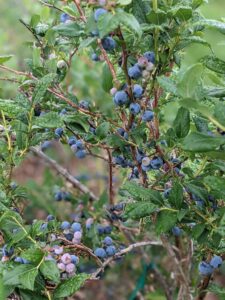 Spring raspberry season is over, but our fall crop is starting to take shape. Many green berries are popping up and should be ready for picking in the next few weeks. We will let you know as soon as they are ready for picking. 
Plums have turned purple, but are still very firm to the touch. It will be a couple of weeks before they are ready for picking.
Open 7 days a week during Vintner's Lounge hours (Sun-Wed 10-6, Thurs-Sat 10-8)
Current Picking Conditions: Scaled from 1-5 (5=best) 
Raspberries = 0 – spring crop
Apples = 0
Grapes = 0 
Plums = 0 
Blueberries =  5
Pears = 0
                                                                  Pet Policy
If you choose to bring your friendly pet to Tug Hill Estate, they must be on a short leash and in your sights at all times. Pets are not permitted inside of the buildings at any time, due to allergies and food/beverages services, so please plan accordingly. Service animals are welcome. We appreciate your understanding.
We have two vineyard dogs that are still quite young; Bailey is almost 2 and Cooper is 1. They both are very friendly but remember when you wander into their territory during your time at Tug Hill Estate, please expect them to be a little playful. Please be aware that, even though they are playful, they may jump or try to steal your stuff! Take care to keep your things securely close to your body, and if they do jump, firmly but gently push them down and tell them "NO." If you would like to learn more about our vineyard dogs click here: https://www.tughillvineyards.com/bailey-cooper-the-grapevine-guard-dogs/

Visit Us
The Tug Hill Estate
Home to Tug Hill Vineyards, Spirits, and Events.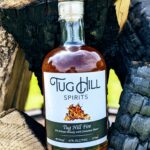 Introducing you to Tug Hill Fire! A cinnamon flavored brandy that has joined the ranks as a bold, new member of the Tug Hill Spirits line.  It is available now in the Vintner's Lounge & Retail Shop for tasting, buying and enjoying. Stop in to try it today!
The Tug Hill Estate is a dynamic business, home to a farm winery, distillery, and event center; it has much to offer. In addition to being a private event venue; we also offer several unique 'pop-up' style dining and music events for visitors. Most frequent being our Sunday Brunch, 'Wine Down' After Hours music event, and Wine and Food Pairing Dinners. Visit our Public Events page to learn more about current event offerings.
Visit Us
Vintner's Lounge
The Vintner's Lounge is regularly open to the public, we invite you to enjoy leisurely wine and spirits tastings and lite food offerings. The Vintner's Lounge is located in our main hall's ground floor and is accessed through an entrance at the garden level. Tug Hill Vineyard's Wine, Spirits, and merchandise are available in-store; curbside pickup is available.
VINTNER'S LOUNGE  & RETAIL SHOP HOURS
Sunday to Wednesday 10-6, Thursday-Saturday 10-8
Plan your perfect Vineyard Event
Private Events
The Tug Hill Estate is the perfect venue for your event, a breathtaking setting your guests are sure to enjoy. 
Our timber-framed hall with its cathedral ceiling and cozy stone fireplace boasts rustic elegance. The 40-acre estate, with its lush hill-side vineyard and beautifully landscaped gardens, overlooks the foothills of the Adirondack Mountains. 
We are happy to host Social events like weddings, reunions, anniversaries, and corporate events. Our events team is here to create a tailored experience and an unforgettable event.
Sign up for our Newsletter
Stay in Touch