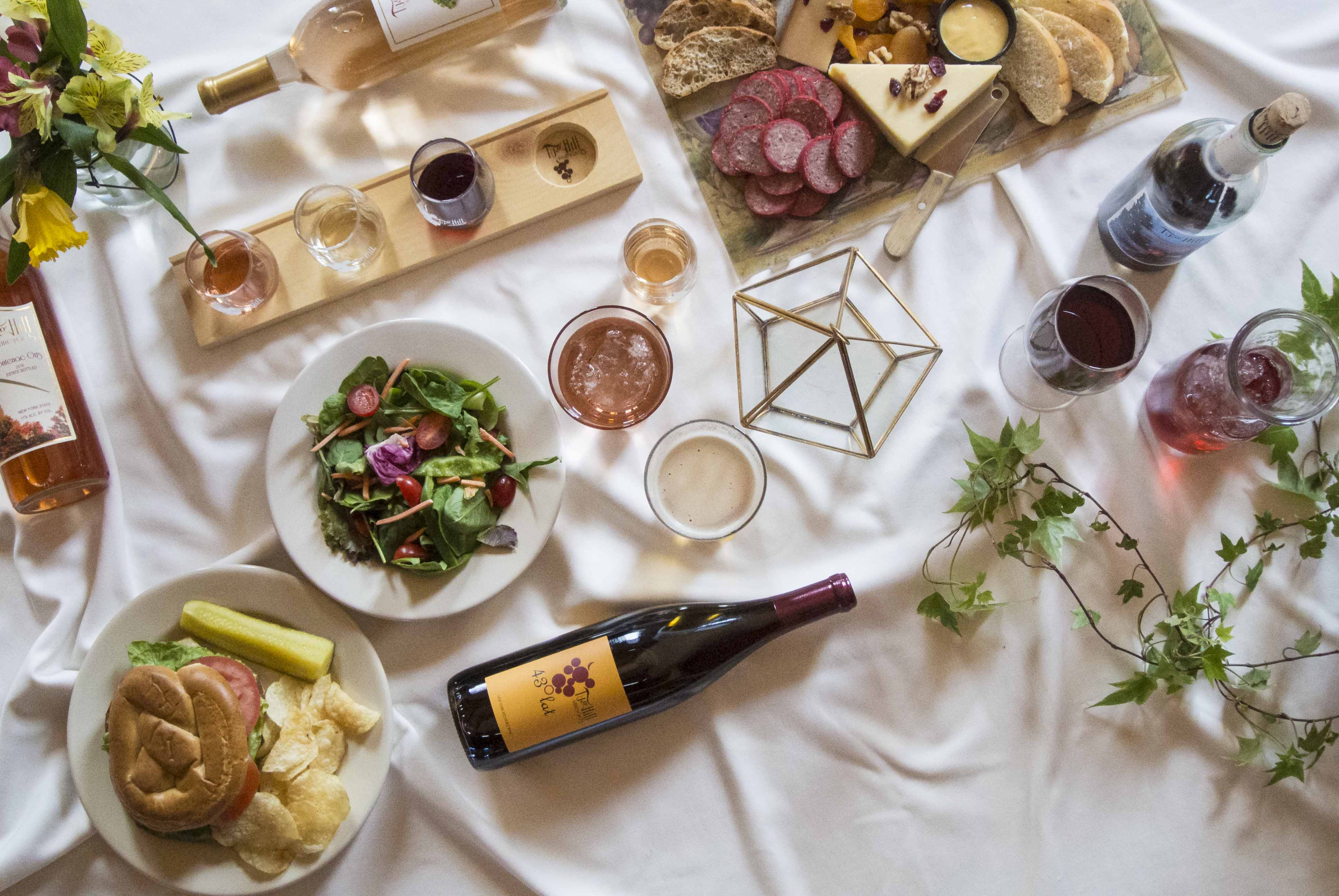 Tug Hill Vineyards
'Wine Down' After Hours
Come "Wine Down" after a long week!
Open to the Public for dinner 5-9, live music 6-9. It's a great way to relax with friends and family. Full bar available alongside our wines and liqueurs, no cover charge, no reservations needed. Doors open at 5.
Event available December 4, 11, and 18.
Welcome Back!
Please observe all applicable Social Distancing Protocols when visiting Tug Hill Vineyards so that we can remain open.
Please wear a mask when you're not seated with your party.
Maintain 6ft distances from other guests, not in your party.
Do not move tables unless staff gives permission, find a table large enough for your group.
Place all orders with the wait staff.
And above all enjoy yourself! We're excited to open back up and see all of you! Follow these guidelines to help us keep COVID-19 out of Lewis County!
Wine Down Menu
12/4
Cheese and Cracker Board $14.95
Three local cheeses with an assortment of crackers and mustard
sauce. Ask your server for today's cheese!
Local Meat and Cheese Board
Small (2-3 people) $11.95, Large (4-6 people) $21.95
Miller's Meat Market Old Style Summer Sausage,
Croghan Meat Market Croghan Bologna, assorted bread
and crackers, mustard sauces, and local cheese.
Manhattan Clam Chowder
Cup $4.95 Bowl $7.95
Bourbon Steak Flatbread $12.95
Flatbread baked with a white garlic sauce crumbled bleu cheese,
sliced steak, green onions, and a generous drizzle of bourbon sauce.
Winter BLT $11.95
Applewood Smoked Bacon, maple cheddar cheese, fresh tomatoes, and lettuce served on hearty multigrain bread with a cranberry mustard sauce. Comes with rustic chips and a pickle.
Jumbo Soft Pretzel $10.95
A giant shareable soft pretzel, salted and served warm with a trio of
dipping sauces: horseradish and beer mustard, tangy brewpub
mustard, and homemade sweet cinnamon butter.
Homemade Dip of the Day $10.95
Always served piping hot in a bread bowl with assorted crackers for
dipping. Today's flavor is; Cheesy Crab Dip.
Winter Tossed Salad
$10.95 add chicken for $4
A blend of romaine and chopped kale topped with dried cranberries, glazed pecans, crumbled bleu cheese, and our signature maple balsamic vinaigrette.
Apple Crisp $4.95
Single-serve warm crisp topped with
whipped cream.
Upcoming Musicians
December 4th – Rob Hirschey
December 11th – Brittany Cean
December 18th – Jason Ashlaw
Note: Musicians may change unexpectedly