Today's U-Pick Conditions- 8/15/22
We still have blueberries- lots and lots of blueberries! The heat and the rain have done much to ripen the remaining blueberries, and the bushes are loaded again!
Spring raspberry season is over, but our fall crop is starting to take shape. Many green berries are popping up and should be ready for picking in the next few weeks. We will let you know as soon as they are ready for picking.
Plums have turned purple and are beginning to ripen, but they aren't quite ready yet.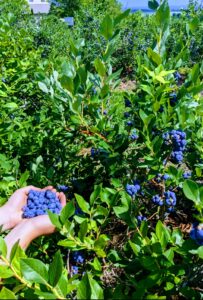 Please watch Facebook, Instagram or our website for updates on U-Pick availability.
Current U-Pick Conditions
Fresh, locally grown fruit is one of the best parts of summer, so bring the whole family out!
We welcome you to enjoy the estate's grounds after picking; we offer light food options in our Vintner's Lounge with seating in our Gardens Monday-Saturday 11-2, and Brunch on Sundays. It will be a memorable and tasty family trip with views of the Black River Valley and the cool Tug Hill breeze.
Our grounds and restrooms are handicap accessible. Restrooms are located in the Vintner's Lounge which is found on the ground level of the main hall. 
U-Pick Basics
Fruit ripeness and volume depends on the weather. This webpage is updated regularly.
Bring your own containers and we will weigh them before you get started or we offer pulp berry tills for you to pick into.
Don't forget water, good walking shoes, hat, and sunscreen.
Kid and dog friendly.
We accept cash, credit cards, and local check.
U-Pick Prices
Raspberries: $4.50/lb or $4.00 @ 8lbs or more
Blueberries: $3.50/lb or $3.00 @ 8lbs or more
Apples: $1.50/ lb
Plums: $3.50/lb
Grapes: $1/lb
Picking Schedule
Here are the crops available and their approximate picking schedule:
Raspberries: (red, gold, and black): July – October
Blueberries: July – August
Plums: August – September
Apples: September – October
Grapes: September – October