In the fall of 2016, thanks to the warm temperatures throughout the summer, we had an exceptional crop of La Crescent and Marquette grapes come in from our vineyards. As the wines started to develop, our winemakers decided that this would be an optimal opportunity to set aside some of it to try something different. We had just purchased five "neutral" barrels for experimenting and by luck we received two French Oak, one American Oak, and one Hungarian Oak barrels. Neutral oak means that the barrels are not new and have been previously used for wine making for three years. Wines can still be fermented or aged in these barrels, but after each use the flavoring ability of the barrel lessens (so does their cost 😊 ) Neutral oak tends to soften wines, more than add extra flavors, which for certain styles of wines can be preferred. Why not see what these barrels would do to our wines?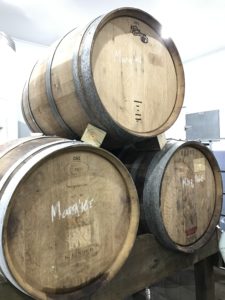 The two French Oak barrels were in the best conditions, so we set those aside to fill one with La Crescent and one with Marquette. Then, because of the fortune of getting three different types of oak, decided to fill Marquette also into the Hungarian barrel and the American barrel so that we could compare how the different oaks influenced the same wine. WHAT A DIFFERENCE! If you were lucky enough to catch me or Derek with some time, you might have gotten a chance to sample the difference and can vouch that it was easy to point out the three different flavors. The French Oak transformed the wine to have a smooth, velvety mouthfeel. The Hungarian Oak added a noticeable black pepper spice element similar to a Syrah. The American Oak, unfortunately, didn't add anything that we really enjoyed so that was not used in the final blend for the reserve. We did however love the combination of the two French and Hungarian barrels after 10 months of barrel aging and will be releasing a 2016 Marquette Reserve later this year so keep a look out for that announcement. You won't want to miss it.
The French Oak had a similar effect on the La Crescent of adding a pleasant, smooth mouthfeel. It also really changed the flavor of the wine compared to our regular 2016 La Crescent by subduing some of the citrus flavors and adding some hints of vanilla, making it creamy in taste and mouthfeel. Also, very noticeable is the difference in color in the reserve. This is a result of the wood allowing the slow introduction of oxygen into the wine which can aid in clarification. Just like the Marquette, we allowed the La Crescent to age for 10 months in the barrel before bottling. And finally, its ready to be enjoyed!
That all being said, I am very excited to announce the release of Tug Hill Vineyards' very first "reserve" wine! On Friday, March 16th we will be debuting our 2016 La Crescent Reserve available only in our tasting room for $23.99 a bottle. We only have 20 cases of this fantastic wine so come visit us quickly to make sure you get some to enjoy. We will only be offering it by the bottle, but trust us, it's good.
Cheers!
Crystal