Bubbly Blush, released this spring, is making a name for itself! This wine won GOLD at the New York Wine Classic, and placed as 'Best Forced Carbonation Method Sparkling'!
Congratulations to Derek Card Winemaker-Distiller and the Vineyard team members who contributed to this success! Thank you again to our supportive customers and community members who continue to embrace the vision of NY's northernmost Estate Winery.
This wine can be purchased online
HERE
'White Out' won gold at the International Cold Climate Wine Competition, an important win for us as this competition puts in direct competition with other vineyards growing French-American Hybrid Grapes.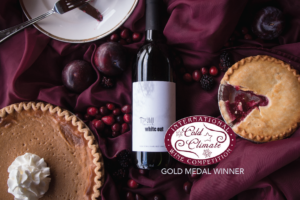 "24 judges from around the nation sipped and studied more than 
300 wines August 15 at the Minnesota Landscape Arboretum, Chaska. This is the only competition of its kind that focuses on wines made with cold-hardy grapes, fruit, or mead. The competition seeks to honor and promote wines of exceptional quality produced in these unique cold-climate regions. The competition is a partnership between the University of Minnesota Grape Breeding and Enology Project and the Minnesota Grape Growers Association."
This wine can be purchased online
HERE