Harvest 2018 Newsletter
This quarter's newsletter is written by me, Nick, a recent – we'll say 'retired' (read: burned out) – urban art teacher who is actually a Lowville native and lightly seasoned Tug Hill Vineyards employee (I've been working summers since 2007). I apologize if it's longer than usual, but can't help but reflect on the development of Tug Hill Vineyards.
It's so interesting seeing the changes out in the fields as owners Mike and Sue have worked to develop the vines over the past decade. I love seeing and hearing what the winemakers (past and present) have to say about our products and the practice in the fields. Dale, the first winemaker, and I shared funny stories reminiscing about the vineyard's start: converting a dusty cornfield into the beautiful estate it is now. My favorite story I heard through the grapevine was about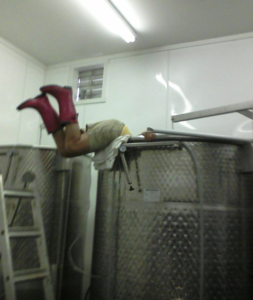 Dick Cole and Mike loading a planter incorrectly and planting a row upside down, roots in the air. I came across some old photos, good memories of the vineyard's start, Dale's boots sticking out of a tank, and the first harvest before any of our advanced Italian machinery was purchased. The amount of work that Mike and Sue's family and friends have put into this little vineyard farm is remarkable. But enough reminiscing, for now, there's more to write about!
The 2018 Harvest officially ended at 2:42pm on October 11th. It was the second of two unseasonably warm days which brought out millions of hungry bees from the tri-county area. Some were the terrifying size of ping-pong balls (apparently of european descent), but we were lucky to receive only a few stings as we finished harvesting Briana and Petite Pearl grapes. The growing season ended with slightly lower brix (natural sugar) than we would have liked, however, nature didn't have it in the cards to give us more time. Total harvest this year was below average at 24 tons.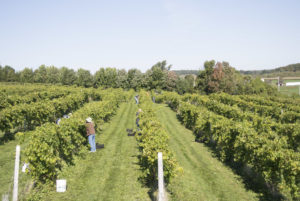 The 2018 season started with early cold-snaps in December 2017, which damaged many of the primary fruiting buds. During the harvest, overcast rainy days led to the spread of mold in some of the crop, which coupled with the relentless invasion of hungry birds in our Frontenac Gris and Marquette. Despite these losses, the growing conditions were favorable for our grapes and we're excited to see the wines they produce. It was a dry summer with an average temperature of 76.7F, which the vines loved.
A huge thank you goes out to our vineyard team and the many helpers who made harvest a success!
So what do we do now that Harvest is over?
Over the next couple of months, the Vineyard will start to get quiet. We are planning to work in the fields as much as we can until the snow covers them. Late season pruning is on the agenda to prepare for the 2019 vintage. We will be laying down a few rows of LaCresecent and Swenson Red varieties to insulate and protect them in the snow. Work will continue throughout the winter in our processing building, getting our wines prepped for bottling, and creating more Liqueur for next season. We are working on finalizing our holiday events, so be sure to follow us on Facebook and Instagram to stay updated on vineyard news. If you're shopping for local holiday gifts, stop by the wine cellar, where we are offering complimentary gift boxes this season for our products!
Cheers!
From Nick and the rest of the Tug Hill Vineyards Team