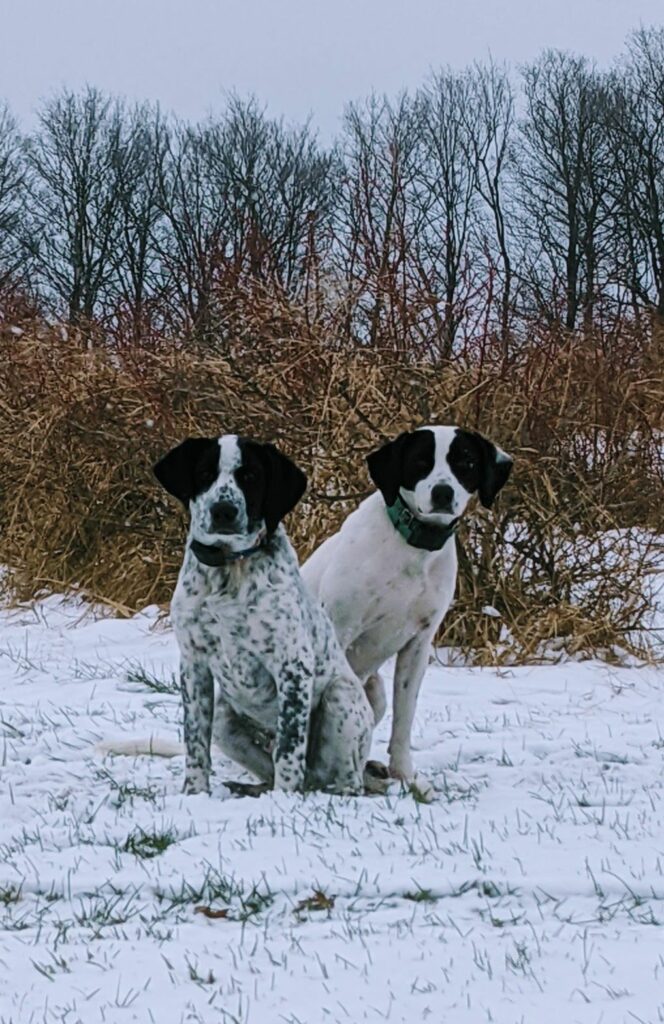 (Cooper is on the left and Bailey is on the right)
Bailey & Cooper, our sibling dog duo, are our resident vineyard protectors. They live right here at the Estate and love to welcome our visitors!
Job Description
These two sweet, young pups are Walker Coonhound & Golden Retriever Mixes. We know, we know, they don't look much like Golden Retriever, but alas, it is true, and this mix is the perfect choice for Tug Hill Estate. Their job is to simply keep nuisances that may damage our crops off of the property, such as rabbits, woodchucks, birds and deer. They do have free rein of the vineyard- meaning all of the areas where grape vines, blueberries and raspberries are growing; however, they cannot come toward the main hall of the estate, as they are in an invisible fence. So, when you come to visit, please don't be worried, as they cannot get close to the parking areas or garden areas. They are safe and so are you! So basically, they are friendly enough to be around guests, Harvest Host travelers and their pets, yet are happily willing to chase away unwanted visitors any time of the day.
Walking through the vineyard
Right now, they are still young, Bailey is 2 years old and Cooper is 1. So, if you do venture out into their territory during your time at Tug Hill Estate, please expect them to be playful. Please be aware that, even though they are playful, they may jump or try to steal your stuff! Take care to keep your things securely close to your body, and if they do jump, firmly but gently push them down and tell them "NO." We are working with them, and their behavior is getting better, but they still get so excited and sometimes forget their manners.  If you have any questions or concerns about the dogs, please promptly remove yourself from their area and direct your questions and concerns to the staff in the Vintner's Lounge.
Bringing your own pet
As a side note, if you choose to bring your friendly pet to Tug Hill Estate, they must be on a short leash and in your sights at all times. Pets are not permitted inside of the buildings at any time, due to allergies and food/beverages services, so please plan accordingly. Service animals are welcome. We appreciate your understanding.