If you have stopped in the store recently, you may have noticed our Tug Hill Spirits being featured. They are our newest addition to our products and we cannot wait to post them on the site so you can order them.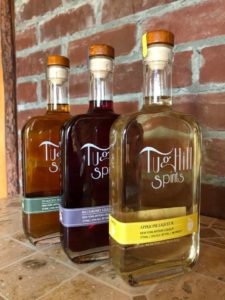 There are three flavors that you can choose from: Apple Pie, Toasted Maple, and Blueberry. All three of the spirits are 46 proof. Our Apple Pie Liqueur is a mixture of spirits, apple wine, cinnamon, and spices. The Toasted Maple is a mixture of grape spirits and maple flavors. The Blueberry is a mixture of blueberry spirits, blueberry wine, and blueberry juice.
Each liqueur can be enjoyed by itself or by making a cocktail! We have multiple recipe cards at the store that you can pick out to go with the liqueur of your choice. You can make an Apple Pie Sangria, a Toasted Maple Russian, or Blueberry Margaritas! It doesn't end there, so stop in the store today to taste the liqueurs, buy a bottle, and grab a recipe card!